After setting up a new corporation recently, I started receiving offers through the US Postal Service for some scammy looking offers. A quick google search in my state (North Carolina) turned up warnings from our local Attorney General.
I deduced these are probably scams as they were described by the Attorney General as such. (You can be your own judge).
I share this as a quick warning and example. Hopefully, if you get something similar (they seem to experiment), maybe you'll be able to spot it, investigate it and avoid other scams too.
Here's what mine looked like…
DOCS-NC Certified Articles of Incorporation request form scam
This one arrived last. I had already received 2 scammy letters about Labor Law posters.  almost thought this was another. No, these folks were trying to sell me official copies of my articles of incorporation. I setup my corporation through a service I have known and worked with since 2010, about 11 years.  They include a copy of the Articles of incorporation, both a paper copy and a digital copy. 
So this new scammy company was trying to sell me something, I had already officially purchased and at an insane price.
Text is from an OCR service, it may not be perfect…
I 0101 DOCS-NC
D.O.C.S
2664 TIMBER DR SUITE 231 GARNER, NC 27529
PLEASE READ CAREFULLY WHEN FILLING OUT THIS FORM
2021
Certified Articles of Organization REQUEST FORM
5 I –AUTO-ALL FOR AADC 280
111111111M1
61045,10,1
Notice Date Sent:
Key Code:
Entity ID:
08/13/2021 NC08111111 MEER
Document Fee: $89.25
PLEASE RESPOND BY: September 1st, 2021
Now that your business is registered in the State of North Carolina, your Articles have been filed with the Secretary of State. You have one step left to attain your elective Certified Copies of your Articles of Organization. Below is a form for your newly registered business. Please confirm the accuracy of the information below for your Certified Copies of Articles of Organization request.
Certified Copies of Articles of Organization are issued directly by the Secretary of State. Certified Copies are state-issued copies of your original business documents. Certified Copies of business documents may be requested by state governments, when you've applied for foreign qualification in those states. Lenders, when you're trying to obtain financing and also Banks, in order to open a business checking account as well as potential business partners or investors. These documents are accompanied by a title page bearing an official seal and the Secretary of State's signature, lending them additional proof of authenticity. Division of Corporate Services is a non government independent document preparation service that will, for a fee, submit a request for your Certified Copies of Articles of Organization and deliver them to you.
CURRENT ENTITY INFORMATION
I3usiness Name:
Document Number:
Address:
Amount: $89.25
City, State, Zip:
Date Notice Sent: 08/13/2021
Please confirm that all of the company information that is currently on file is correct. If any information is incorrect make note of it and include the most current entity information, along with the payment portion completely filled out below. For your convenience we have simplified the process for you with this form. Questions? Contact us at [email protected] (866-487-5359) Detach & Mail•
CHECI: APPROPRIATE P.NIENT METHOD .691) FILL Off SIT FUNS
❑CHECK ENCLOSED: $89.25 MONEY ORDER ENCLOSED: $89.25 MAKE CHECKS PAYABLE TO: D.O.C.S
Business Name:
Address:
City, State, Zip:
Mar
Document Number: 0111111111
Amount: S89.25
Date Notice Sent: 08/13/2021
Contact& Signature Authorization
ICONIACT NAME:
PHONE NUMBER:
SIGNATURE: X: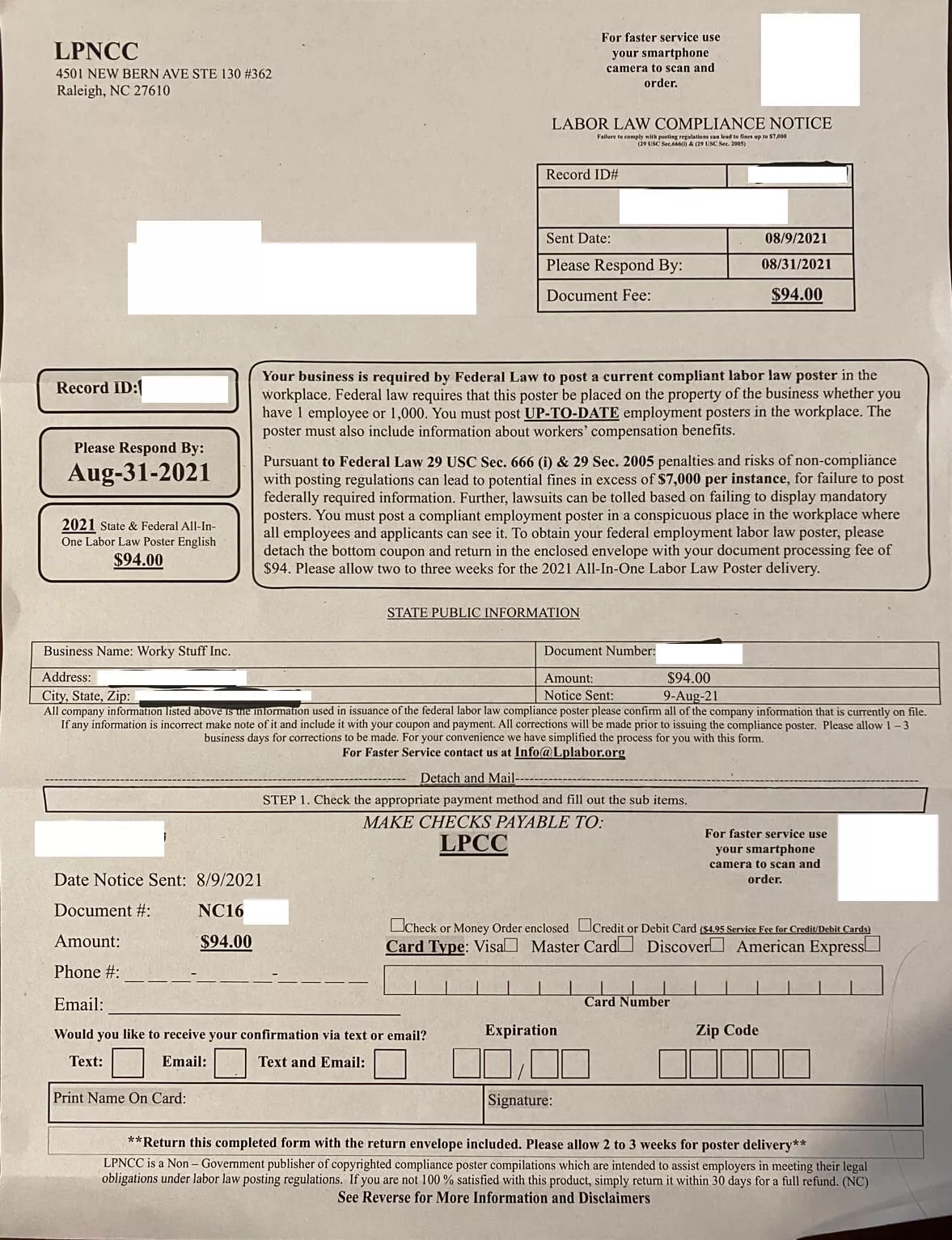 LPCC LPNCC Labor Law Poster Scam alert
You'll note that this one uses 2 different names, the name of the supposed organization at the top, and then the name to make your check out too.
It's also worth noting that here in North Carolina, they'll give you one of these posters for free if your poster is out of date. Paying money for something you can get for free from the government is a big tip off to a scam!
OCR text from their letter
LPNCC
4501 NEW BERN AVE STE 130 #362 Raleigh, NC 27610
Record ID:1
Please Respond By: Aug-31-2021
2,02,1,abs:Leat FpeodszartEAnigt $94.00
For faster service use your smartphone camera to scan and order.
LABOR LAW COMPLIANCE NOTICE
Record ID# 1 – I Sent Date: 08/9/2021 Please Respond By: 08/31/2021 Document Fee: $94.00
Your business is required by Federal Law to post a current compliant labor law poster in the Workplace. Federal law requires that this poster be placed on the property of the business whether you have 1 employee or 1,000. You must post UP-TO-DATE employment posters in the workplace. The poster must also include information about workers' compensation benefits. Pursuant to Federal Law 29 USC Sec. 666 (i) & 29 Sec. 2005 penalties and risks of non-compliance with posting regulations can lead to potential fines in excess of $7,000 per instance, for failure to post federally required information. Further, lawsuits can be tolled based on failing to display mandatory posters. You must post a compliant employment poster in a conspicuous place in the workplace where all employees and applicants can see it. To obtain your federal employment labor law poster, please detach the bottom coupon and return in the enclosed envelope with your document processing fee of $94. Please allots two to three weeks for the 2021 All-In-One Labor Law Poster delivery.
STATE PUBLIC INFORMATION
Business Name: 
Document Number:
Address: Amount: $94.00
City, State, Zip: Notice Sent: 9-A1,-21 All company information isted a ove in orma ion used in issuance of the federal labor law compliance poster please confirm all of the company information that is currently on file. If any information is incorrect make note of it and include it with your coupon and payment. All corrections will be made prior to issuing the compliance poster. Please allow I — 3 business days for corrections to be made. For your convenience we have simplified the process for you with this form. For Faster Service contact us at InfoLplahor.org
Detach and Mail
STEP I. Check the appropriate payment method and fill out the sub items.
Date Notice Sent: 8/9/2021 Document #: NC16 Amount: $94.00 Phone #: Email:
MAKE CHECKS PAYABLE TO: LPCC
For faster service use your smartphone camera to scan and order.
❑Check or Money Order enclosed OCredit or Debit Card ,P.95 tier lc,. Fee for crediut.it Card Type: Visa❑ Master Card❑ Discover❑ American Express❑
11 1 1 1 I I I 1 1 1 1 I I
Would you like to receive your confirmation via text or email? Text: fl Email: fl Text and Email:
Expiration /
Card Number
Zip Code =ELI
Print Name On Card:
Signature:
**Return this completed form with the return envelope included. Please allow 2 to 3 weeks for poster delivery"*
LPNCC is a Non — Goverment publisher of copyrighted compliance poster compilations which are intended to assist employers in meeting their legal obligations under labor law posting regulations. If you are not 100 % satisfied with this product, simply retum it within 30 days for a full refund. (NC) See Reverse for More Information and Disclaimers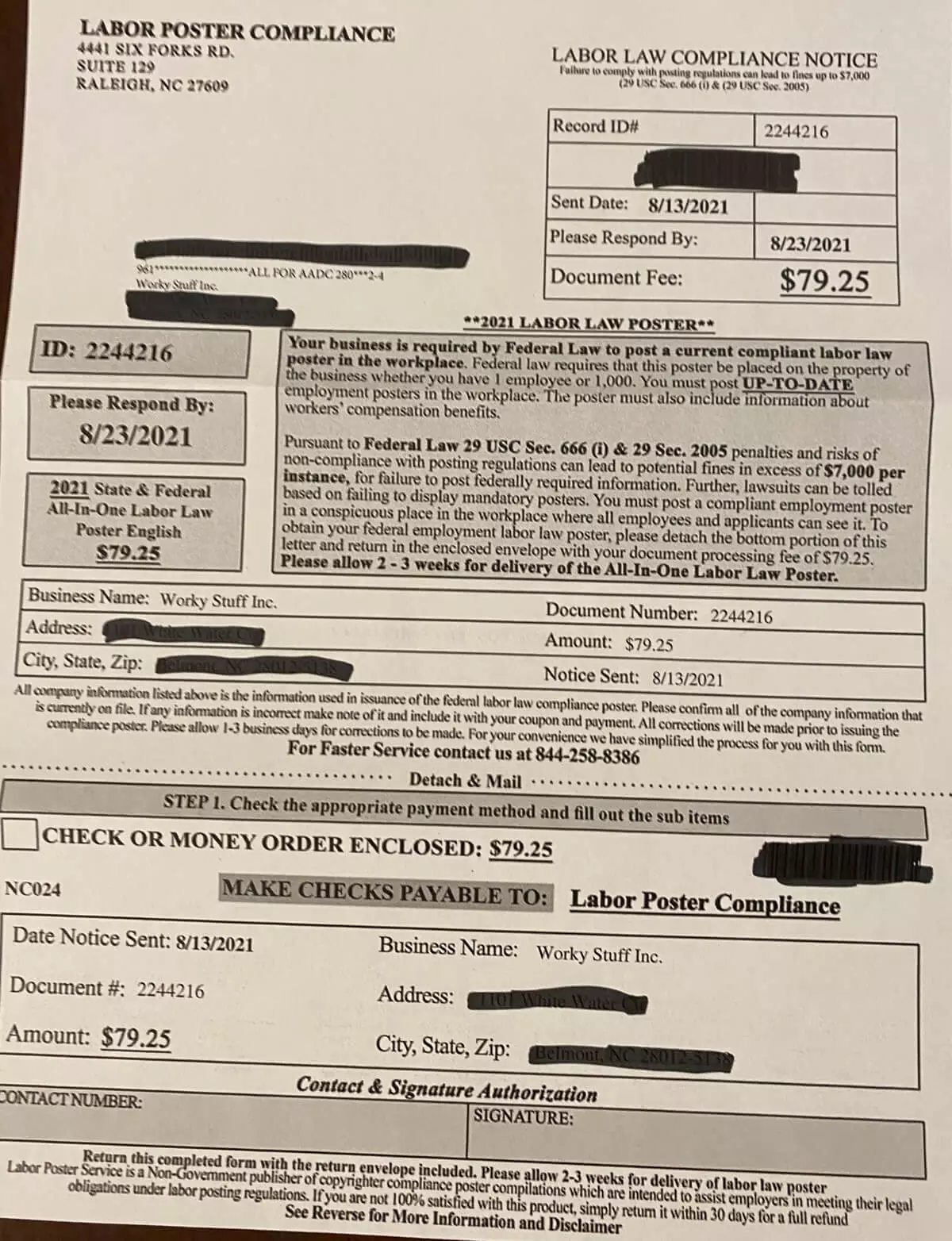 Labor Poster Compliance Scam alert
text from the image as pulled in from onlineocr.net
LABOR POSTER COMPLIANCE 4441 SIX FORKS RD. SUITE 129 RALEIGH. NC 27609
y .utt lass IID: 2244216
Please Respond By: 8/23/2021
2021 State & Federal Alt-In-One Labor Law Poster English S79.25
LABOR LAW COMPLIANCE NOTICE att.iv to wink" with thwun. resulation. twn kvkl Nl nINY up to S7,000 tot, it, & 2.05,
Record ID# 1 2244216
Sent Date: 8/13/2021 Please Respond By: Document Fee:
8/23/2021 $79.25
•*HUI LABOR LAW POSTER••
Your business is required by Federal Law to post a current compliant labor law poster in the workplace. Federal law minims that this poster be placed on the property of the business whether you have 1 employee or 1.000. You must post UP-TO-DATE employment posters in the workplace. The poster must also include information about workers' compensation benefits, Pursuant to Federal Law 29 USC Sec. 666 (i) & 29 Sec. 2005 penalties and risks of non-compliance with posting regulations can lend to potential tines in excess of $7,000 per instance, for failure to post federally required information. Further, lawsuits can be tolled based on failing to display mandatory posters. You must post a compliant employment poster in a conspicuous place in the workplace where all employees and applicants can see it. To obtain your federal employment labor law poster, please detach the bottom portion of this letter and return in the enclosed envelope with your document processing fee of S79.25. Please allow 2 – 3 weeks for delivery of the All-In-One Labor Law Poster.
Busines Name: 
01111111111111111. City, State, Zip:
Document Number: 22442 l s
Amount: $79.25 Notice Sent: 8/13/2021
All rsoeptttty obnnizion 16vd at,,, is the intimation turd in issuance of the federal labor lao complianoe poster. Pkase cons imp all of the company infonnation that OrItItb' Oil rile. Warty intbanation is incorinnt make note of it and include it \\jib your coupon and payment. All com.vtions wilt be made prior to issuing, the compliance p.m. Piece alkm 1-3 basins., days fix wrrectiotts to tin made. For )vor convenience on have simplified the proems for you o ith this (Ono. For Faster Service contact us at 844-258-8386 Detach & Mail
II
STEP I. Check the appropriate payment method and till out the sub items dion\R
CHECK OR MONEY ORDER ENCLOSED: $79.25
NCO24 MAKE CHECKS PAYABLE TO: Labor Poster Compliance
Date Notice Sent: 8/13/2021 Document #: 2244216 Amount: $79.25
Business Name: 
Contact & Signature Authorization
:ONTACT NUMBER:
SIGNATURE:
Return this completed form with the return envelope include I. Please allow 2-3 weeks for delivery of labor law poster , Labor Pager Service is a Non-Gmemment publisher of cop) righter compliance poster compilations which arc intended to a,sist cmployer, in meeting their Icgal obligations under labor pcaing regulations. If you an: not 100% satisfied with this product. simply mum it within 30 days for a full refund See Reverse for More Information and Disclaimer